Wedding Cakes
Finding the best wedding cakes is simple with Bakers and Cakers. Use our Bridal Boutique inspiration page to browse beautiful designs from talented local bakers and create a profile to save the wedding cakes you like, so they're easier to find later. Our cakers are all HSE approved and have a diverse set of talents, allowing you to find all types of designs to suit any theme or preference. When you're ready to start getting in touch with bakers, our platform makes it easy to check availability, estimate costs, and send out messages to multiple professionals at once, freeing you up to focus on all the details of your special day.
Wedding Cupcakes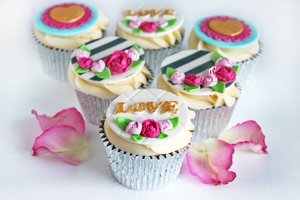 Wedding cupcakes are ideal if you'd like to offer multiple flavours, are creating an entire dessert table, would like something non-traditional, or are working within a tighter budget. These handheld bites of deliciousness can be crafted with your or your guests' dietary concerns in mind too. Our bakers work with traditional flavours as well as uncommon pairings to create wedding cupcakes your guests will savour and remember. Opt for elegant designs that speak of tradition or request something fun and unique—the options are limitless when you order wedding cupcakes from Bakers and Cakers! Just be sure to order more than one per guest; wedding cupcakes tend to be devoured quickly.
Simple Wedding Cakes
Exploring simple wedding cakes? The timeless and refined designs by our bakers will add a measure of sophistication to your day without being too over-the-top. Layered with rich butter cream, draped in fondant, or even naked, simple wedding cakes complement the quaint ceremony perfectly. You can even dress it up a bit by integrating rosettes or texturing the butter cream, adding sugar flowers, incorporating a bloom or two to match your bouquet, or selecting an understated topper which coordinates with your theme. Grab some examples of simple wedding cakes you like from our inspiration page to show your baker or connect with the bakers directly to ensure your finished piece looks exactly like you imagined.
Rustic Wedding Cakes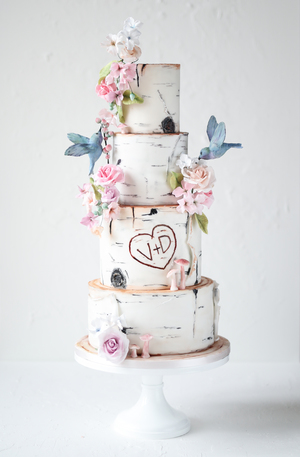 Rustic wedding cakes carry an air of country charm and simplicity. In some cases, they may be naked or have a patterned buttercream coating. Other times, rustic wedding cakes incorporate natural elements, such as wood, flowers, foliage, and fresh fruit. They work well for farm or fall nuptials, as well as those taking place in the countryside. Consider adding a touch of silver, gold, or sparkle to go rustic-chic or other elements to complement your theme. There's so much that can be done with rustic wedding cakes when you have a talented baker on your side that the sky's the limit.
Wedding Cake Toppers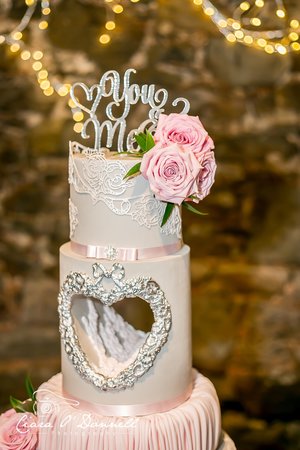 Bakers and Cakers makes finding wedding cake toppers a breeze. Many of our artisans craft beautiful bespoke wedding cake toppers which can be purchased separately or included as part of your order. Explore stunning sugar craft blooms, figurines, monograms, and paper art customized to suit your preferences and theme. If you're not set on specific wedding cake toppers, let your caker manage the task for you. Search through the inspiration page for pieces you like, then reach out directly to the baker who created it and let him or her come up with something that's similar, but uniquely suited to your special day.
Wedding Cakes: Ireland Tips
When choosing wedding cakes, Ireland has lots of options. We're honoured that you've chosen Bakers and Cakers and to work with local artisans. Not only does this decision help improve our communities, but it leads to better results for you too! Bear in mind that as you shop for wedding cakes in Ireland from small shops, samples may be handled differently than you're accustomed to. The majority create sample boxes a few times per year rather than bringing brides and grooms in on demand. If scheduling a tasting is important to you, book well in advance to have a sample selection earmarked for you.