Why Choose 30th Birthday Cakes from Bakers & Cakers?
Handmade is better. Our cakers typically make their creations from scratch using high-quality ingredients. That means the finished piece is fresher, tastes better, and is one-of-a-kind.

You have more options. Whilst you're welcomed to choose from timeless classics such as vanilla and chocolate, our cakers work with a variety of flavours and often create their own unique combinations. From the decadent (or naked) topping through the luscious filling and everything in between, your 30th birthday cake will suit your unique preferences.
You get to customise. Mass producers slap a name on a cake and call it custom. Our cakers start by listening to you first, then they design around your needs. This includes everything from design elements through colours. Plus, many of our cakers work with special diets, such as vegan, dairy-free, gluten-free, and allergen-free needs.
You work directly with your caker. Each image you see on this page features a 30th birthday cake created by the caker who posted the photo. When you choose to contact a caker associated with any give photo, you're really talking to the person who made the initial cake and the person who will be crafting yours. That means communication is easier and your finished piece will be everything you hope for.
You're supporting local businesses. Bakers & Cakers is a marketplace where all sorts of talented bakers come together to showcase their work. We offer a seamless ordering process and tools that make both your lives easier, but ultimately, you're forming a relationship with the individual baker and supporting a business in your area.
How to Ensure You Get Your Dream 30th Birthday Cake
Find a style first. Every caker has his or her own specialties. Some make the most delightful sugar flowers you'll ever see, while others make incredibly detailed toppers by hand, divine ganache, savoury flavour pairings, or excel in a specific style or theme. If you want something that looks like the picture, go straight to the source! Find photos of 30th birthday cakes you like first, then ask the caker who shared the image to make one for you.
Jot down the details. Make notes about the date, number of people you need to serve, colours, flavours, and other important details, so you've got them ready when your caker asks.
Connect with the caker(s). If you set up a free Bakers & Cakers account, you can reach multiple cakers at once and supply them with all the details they need in one go, saving you time and effort.
Order as early as possible. Talented cakers book up well in advance. Give yours as much time as possible to plan and create.
Tips for Planning the Perfect 30th Birthday Party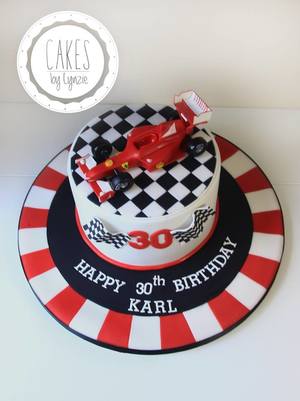 Go for a theme. Some people like to go all in, with costumes and more, while others simply select a colour scheme and feel. Whatever you do, make it personal and carry it through all elements of the party.

Ask friends to pitch in. The more they're involved in planning, the more excited they'll be for the big day. However, with the busy schedules people keep today, it might be easier to recruit assistance if you assign each person one small task.
Offer food and drinks. If you're here, you've probably got the cake covered, but don't forget to offer other types of food and beverages. Go with small handheld items on a buffet table to keep people moving and mingling.
Create simple activities and games. Come up with ideas people can do alone or in small groups. Backyard games may work for some, while art projects and signature books are better suited for others.
Schedule it out, but throw in surprises. Make it easier for people to come and go as their schedules allow by printing out a schedule of events. You can create high points that will make your party more memorable by injecting surprises throughout the event, such as witty speeches, games, or treats.